Alumina Furnace Pipe
Alumina Furnace Pipe
YUNXING

China Jinzhou

5-30 Days

5,000-10,000/month(Looking for distributors)
A. Alumina ceramic tubes are mainly used for protection tubes and insulating tubes of thermocouple thermometers of temperature measuring instruments.
B. It can also be used in furnace tubes of industrial resistance furnaces, experimental electric furnaces, and heat treatment furnaces.
C.99.5%-99.7% alumina ceramic tube is the main product of our factory. Conventional alumina ceramic tubes are available from stock all year round.
Alumina Furnace Pipe
My factory looking for distributors.
Alumina ceramic belongs to the addition of special ceramics, our factory mainly produces aluminum oxide content is between 99.3% and 99.7% of high purity alumina alumina ceramic piece, its main composition is AL2O3 as raw material, finished product after sintering hardness can reach mohs hardness grade 9, because it's super abrasion resistance, impact resistance and strong corrosion resistance, high hardness, mechanical performance is remarkable.
Has been widely used in cement, steel, thermal power, coal, smelting, chemical, port, mining and other industries in the easy to wear equipment, become to extend the life of mechanical equipment, protect equipment is not easy to be damaged, reduce the enterprise operating costs of the umbrella.
The alumina ceramic tube has high purity; the color is milky white; the outside is smooth and translucent.

The production and supply of alumina ceramic pipes are divided into extrusion molding and grouting molding.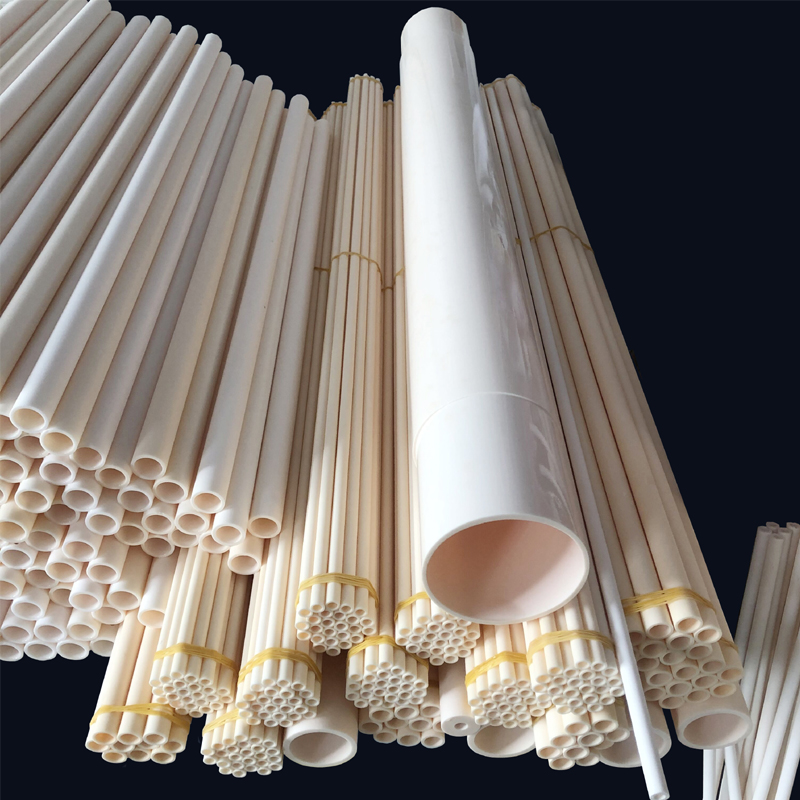 Instructions for use
When using alumina furnace tubes, it is best to control the heating and cooling rate to 5 degrees / minute, the slower the better.
Rapid cooling and rapid heating are one of the main reasons for the rupture of the alumina furnace tube. Our products have good resistance to quenching and heating.
Please keep the alumina furnace tube clean at all times, do not leave some samples in the alumina furnace tube, one side chemical reaction and cracking of the alumina furnace tube. It is recommended to put the test sample into the crucible and alumina furnace tube.
During lofting and sampling, it is best to be within 200 degrees and slowly push from the edge to the middle. High temperature sample delivery and sampling is also the main reason for corundum tube rupture.
Make sure to place mullite plugs on both sides of the alumina furnace tube to prevent heat radiation from damaging the silicone ring in the flange. The crucible should be placed in the middle of the alumina furnace tube.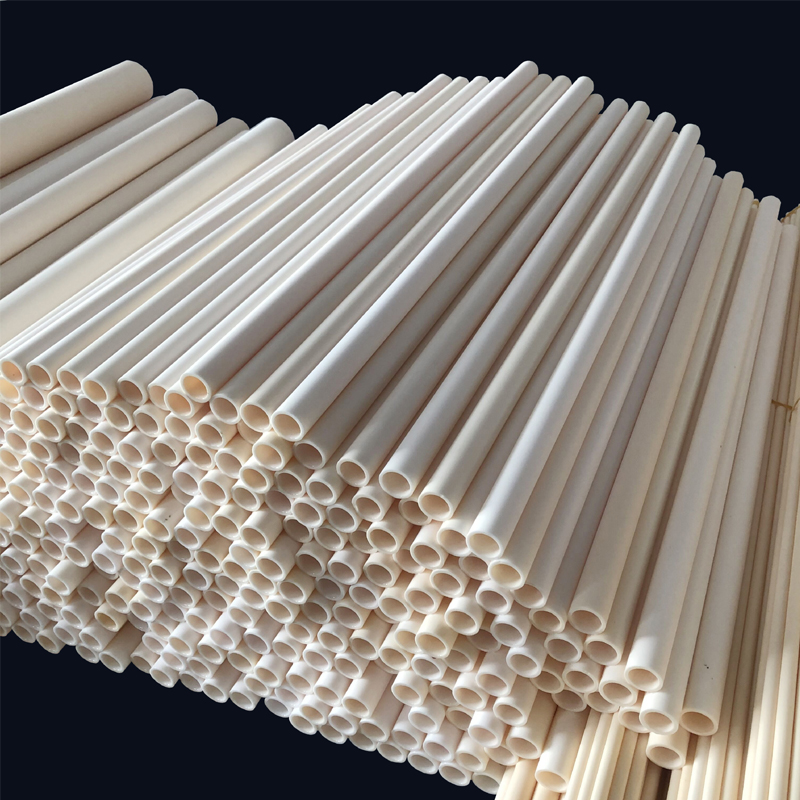 Recommended products
Square tube Crucuble Ceramic beads
Used for furnace tube, Used in metallurgy, It can meet the temperature
support, threading, chemical industry, measurement requirements
insulation, etc. electronics, glass, of turning, turning and twisting
paper making and under the complex conditions
other industries. of thermocouples.
Composition table
| | |
| --- | --- |
| NAME | CONTENT(%) |
| Al2O3 | 99.3-99.5(99.7) |
| SiO2 | 0.3-0.5 |
| CaO+MgO | 0.2-0.3 |
| K2O+Na2O | 0.2-0.35 |
| Fe2O3 | <0.1 |
| OTHER | <0.05 |
Alumina ceramic performance index (Notice of Correct in Leakeage Rate)
NO.

Property

Unit

Alumina

1

Al2O3

%

>99.3

2

SiO2

%

—

3

Density

g/cm3

3.88

4

Water absorption

%

0.01

5

Compressive strength

MPa

2300

6

20℃ leakage rates

Torr・L/sec

>10-11=1.33322×10-12Pa・m3/sec

7

Twisting in high temperature

mm

0.2 allowed in 1600℃

8

Bonding in high temperature




not bonded in 1600℃

9

20—1000℃ coefficient of thermal expansion

mm.10-6/℃.m

8.2

10

Thermal conductivity

W/m.k

25

11

Electric insulation strength

KV/mm

20

12

20℃direct current

insulation resistance

Ohm/cm

1014

13

High-temperature

insulation resistance

1000℃ MΩ

≥0.08

1300℃ MΩ

≥0.02

14

Thermal shock resistance




4 times not cracked in 1550℃

15

Maximum working temperature

℃

1800

16

Hardness

Mohs

9

17

Flexural strength

Mpa

350
Our factory

Jinzhou Yunxing Industrial Ceramics Co., Ltd. was established in 2000, mainly producing various types of tubular ceramic products and various industrial parts with alumina content above 99.3%. The factory covers an area of 4000 square meters.

The company's main products are: alumina ceramic tubes, alumina ceramic crucibles, alumina ceramic rods, alumina ceramic boats, alumina ceramic plates, alumina ceramic parts, etc.

The company currently has 3 1800 ° C high-temperature furnaces and 2 1400 ° C low-temperature kilns independently designed and manufactured. The molding process is mainly based on grouting molding, and has other molding process equipment such as extrusion and hot die casting.

The company has 105 employees, including one senior ceramic engineer, three engineers, six overseas sales staff, and four professional after-sales staff.
Inspection report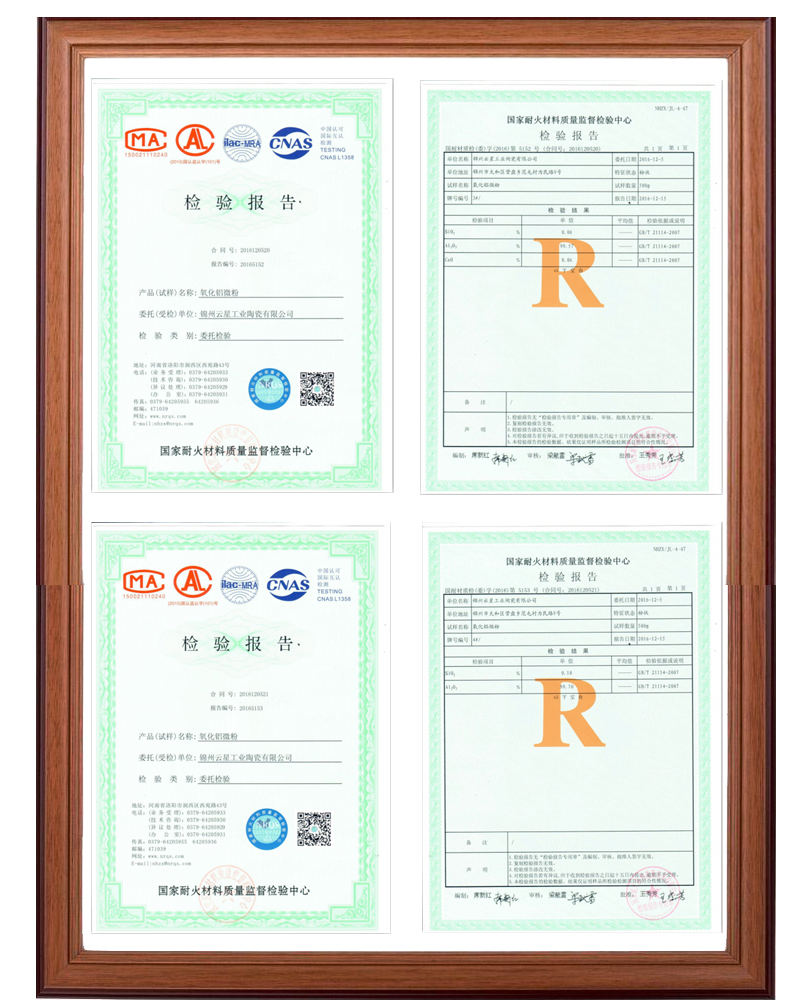 FAQ
1. Shipping method: sea, air, express, mail, etc.
2. We accept customization.
3. We have professional designers.
4. We have a professional after-sales department to answer your questions.